Prefabricated Houses & Cheap House Prices Under 30K – TURKEY

Prefabricated houses are manufactured by using steel constuctions. Therefore we can create Prefabricated Houses and villas for your desired size. We can transport them to everywhere you want easily. In Turkey you can find the best low prices for prefabricated houses than other countries.
To give you the best quality houses we are using best quality steel constructions and insulation materials while making a house. Prefabricated houses are detachable and easy by transporting to another place.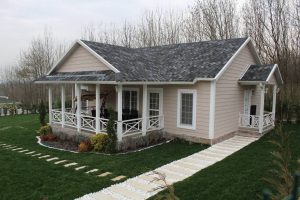 There is no problem to create your own design to prefabricated. We can create each project as you want, because we are using prepared panels. We create a plan for your prefabricated house and If you want to change anything, you can feedback us and we can change the details.
Prefabricated houses and villas are very safe, durable and sustainable. Because of the well insulation you can use prefabricated houses in every climate seasons.
** Please ask to us via whatsapp for all questions.

Whatsapp Line: +905344187253
What is inclusive to prices?
Insulated Roof
Insulated Walls
Inside american type doors
Main steel door
Double glazed windows
Wc, Taps, Sink, Sanitaryware, Shower area
Paints for interior and exterior
Electric and water lines, switchs
Bathroom cupboards
Kitchen cupboards
What is customer responsibilities?
Customs, Delivery payments
Ground concrete for assembly (we will send a concrete plan already)
Floor covering materials (for rooms) and tiles materials (for bathrooms) + applying them
Supervisor costs (Daily 130 usd for each day. Assembly time is approx 10-20 days totally. Fly tickets, hotel, visa (if needed) and food payments.
Rental workers (or we can send all assembly team but you need to pay for each person)
We have a lot of house packages and prices. If you are looking under 100 K or more less, we make by this budgets:
Prefab house under 100k
Prefab house under 90k
Prefab house under 80k
Prefab house under 70k
Prefab house under 60k
Prefab house under 50k
Prefab house under 40k
Prefab house under 30k
Prefab house under 20k
Prefab house under 10k
OUR FACTORY
NOW, Take a prefabritaced house price and transporting information and we will reply quickly to you:
Order / Info Form